---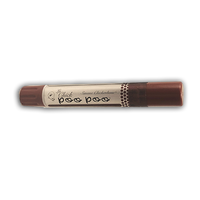 Claudia Mauve-ia La Chick Poo Poo
Claudia Mauve-ia is a soft natural mauve hue with a hint of shimmer. Perfect for every day wear and right into the night.  Smooth on your lips for a gorgeous smile.
Simone Chickenbone™ goes out on the town with the Fancy ChickenPoop, La Chick Poo Poo Lip Glace'.
All new lip shimmers! The same all-natural ingredients with mineral based nude hues to add a bit of shimmer to your gorgeous kisser.
Check out all 3 colors: Claudia Mauve-ia, Arora Pink, and Simone a go-go.

Ingredients: Avocado Oil, Beeswax, Zinc Oxide, Essential Oil of Sweet Orange, Vitamin E. May Contain: Mica, Titanium Dioxide, Iron Oxide.